For Austin, Texas, home-builder Leonard Bullard, late 2020 and early 2021 felt like a California gold rush.
As out-of-state buyers flocked to the Texas capital, Mr. Bullard's firm Urban ATX operated at maximum capacity, scooping up dirt and building luxury homes as fast as it could. At one point, Mr. Bullard had 55 homes above $2 million in the pipeline. Now, he's down to 25 in various stages of development and wants to cut that number in half amid a market slowdown.
"I haven't bought a piece of property since the spring," said Mr. Bullard, who, like other luxury builders in Austin, is facing the harsh reality of a market with too much expensive real estate available and too few buyers.
Amid slower sales, inventory is rising —
a predicament for developers who raced to build bigger and more expensive homes
for the pandemic's influx of wealthy buyers. In September, the number of listings for newly built homes above $1 million surged 266% compared with the number during September 2021, according to data from Independence Title Co. While ultraluxury properties, including those on Lake Austin, have been insulated from the slowdown, homes between $3 million and $5 million that flew off the shelves last year are now taking 30 to 60 days or longer to sell.
"There's a glut of projects stacking up," said Chester Wilson of Greater Austin Builders, which stopped buying land last year. Mr. Wilson estimated that he and others have about 50 new homes in the pipeline in Zilker and Bouldin Creek, two affluent Austin neighborhoods. Unlike last year, when buyers snapped up new houses months before they were complete, Mr. Wilson now has three "sitters," what he defines as homes that are move-in ready but have been lingering on the market for several weeks.
With homes taking longer to sell, Mr. Wilson and his partners have pooled money to cover the carrying costs of each house in their pipeline, about $150,000 to $200,000 per project. Recently, they sold a teardown to another builder for a $17,000 loss.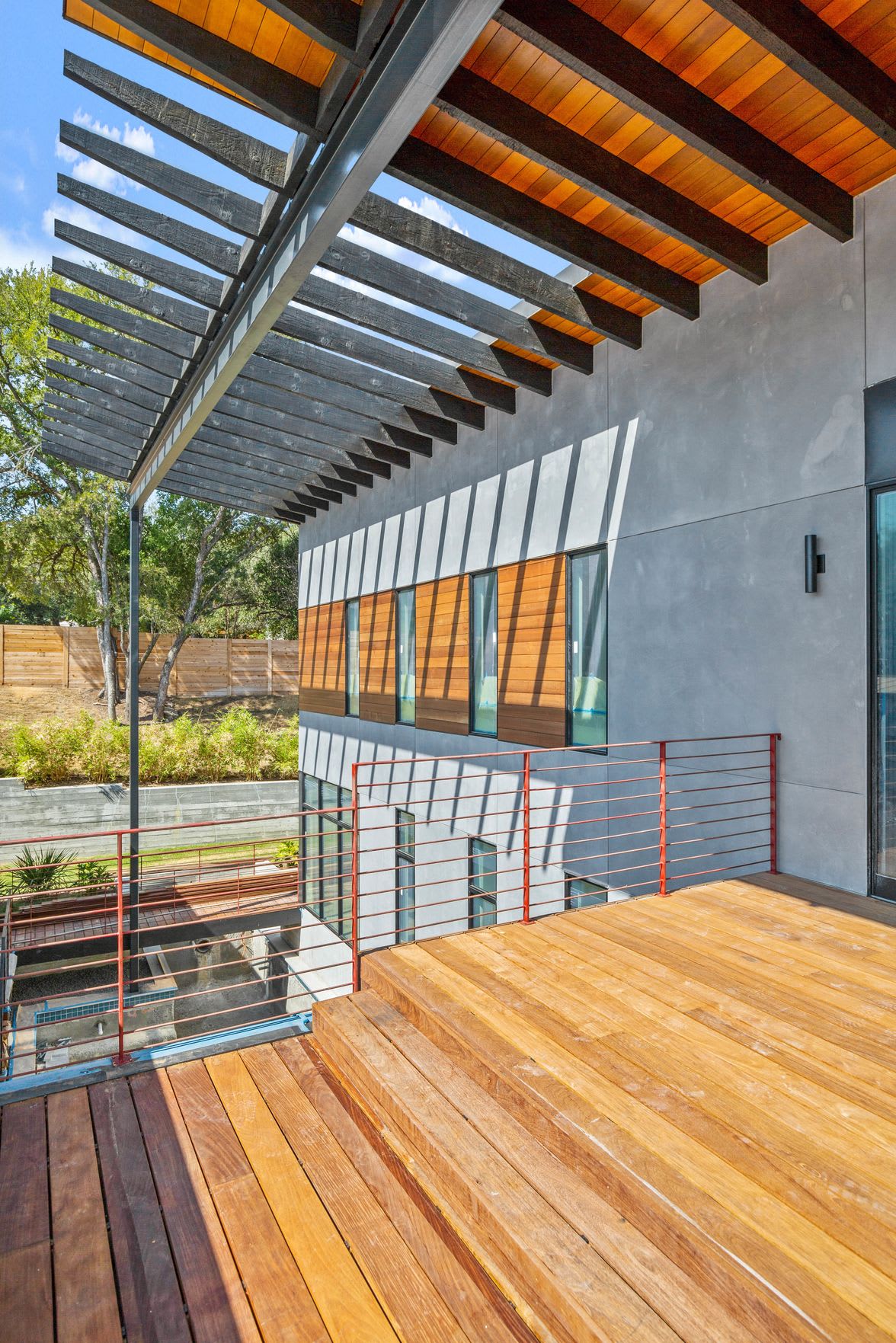 In Barton Hills, a new five-bedroom home is being privately shopped for $5.28 million. Rudy Lara
Local real-estate agents said during the pandemic, the luxury market skyrocketed as buyers drawn to Austin's funky cultural scene, lack of state income tax and burgeoning tech sector came in droves, creating an inventory shortage and driving up prices. In 2021, sales above $1 million in Austin shot up 89% compared with sales at that price point in 2020, and deals above $3 million rose 77% over the period, Independence Title data show.
"We saw such a significant demand from the feeder markets, that pretty much you could name your price and get it," said Kumara Wilcoxon of Kuper Sotheby's International Realty, describing the influx of buyers from places such as California and New York.
Demand for new homes drove up land prices in neighborhoods such as Zilker and Barton Hills, where lots that sold for $300,000 in 2014 fetched $750,000 to $800,000 in 2019 and 2020, said Joshua Brunsmann of 3rd Angle Realty, who specializes in land deals. By 2021, builders capitalizing on the Covid boom were paying over $1 million for teardown properties.
Many built homes on spec, including the developer of an 8,000-square-foot home on Lake Austin in the city's Westlake neighborhood. It hit the market in June asking $18.5 million, according to Zillow. Several other properties above $10 million are for sale on Austin's private market, where some have lingered unsold.
Eric Moreland of Moreland Properties, who is marketing the $18.5 million home, said buyer demand is still strong for truly unique properties and homes on the water. He cited several deals above $7 million in recent months, including some that sold off market. Because
Texas is a nondisclosure state
, in which property sale prices aren't required to be publicly disclosed, real-estate market data can be opaque.
Agents described a different scenario in the market under $5 million, where buyers are more acutely affected by borrowing costs. Andy Allen of Keller Williams Realty said he saw the writing on the wall when the Federal Reserve signaled it would raise interest rates this year;
U.S. mortgage rates hit a 20-year high
of 6.92% earlier in October. Meanwhile, Mr. Allen said the market had become overheated. He cited $2 million homes that routinely sold for 15% above market value. "That isn't sustainable," he said.
Stock-market volatility
,
inflation
and economic uncertainty have since caused buyers to pull back, ending sellers' ability to name their price, agents said, and buyers now are shopping for deals and sticking to more realistic sale prices. There were 11 recorded sales in Austin above $10 million in 2021, up 450% year-over-year, Compass data show. So far this year, there have been five. "It's like someone turned off the water," said Darin Walker of Kuper Sotheby's International Realty.
Tech executive Jeremy Malasky said he and his wife, Vanessa Benavidez, who worked with Mr. Walker to buy a home, initially experienced sticker shock when they started house hunting in April. But within a few weeks, the market shifted rapidly. In August, the couple paid $6.33 million for a five-year-old house in Rollingwood. The seller purchased the property, which was listed for $999,000 in 2016, tore down the existing home and built a new home on the site in 2017. It was listed for just under $8 million in May, according to the multiple listing service.
Despite a 21% discount, Mr. Malasky thinks he overpaid for the house because property values are likely to drop another 10% before the market bottoms out. "I'm OK overpaying because we were tired of moving. We wanted to get settled," he said. "The value is in having a home."
But not all buyers feel the same pressure, particularly if the home isn't complete. "I have interest and people wanting to walk the slabs, but there's just no sense of urgency in this kind of market to tie something up at this phase," said Ms. Wilcoxon.
Mr. Brunsmann is marketing a recently completed 3,000-square-foot house in Bouldin Creek that is asking $2.785 million, down from $3.695 million in July. He said he had no offers at the higher price, and thinks the builder missed the market. "We were five to six months too late," he said.
For the past two years, builders said rising home prices helped to offset higher land and material costs, supply-chain delays and a labor shortage. Without that price cushion, several have stopped buying land altogether. Jared Gossett of Gossett & Co. said his firm is being more selective about its projects. "There's a lot of people that do have price fatigue and so that resonates with me," he said. "I think everyone is kind of tired of paying at the top."
Mr. Gossett is also building custom homes instead of developing on spec. On a few occasions, the company has sold off land and then entered into a construction contract to build the house. This got its own equity and risk out of projects. For example, he recently sold a lot in Austin's Tarrytown neighborhood for $2.1 million to a client who agreed to pay him another $2.5 million for a 4,600-square-foot custom home. Mr. Gossett projected the house will be worth just over $5 million.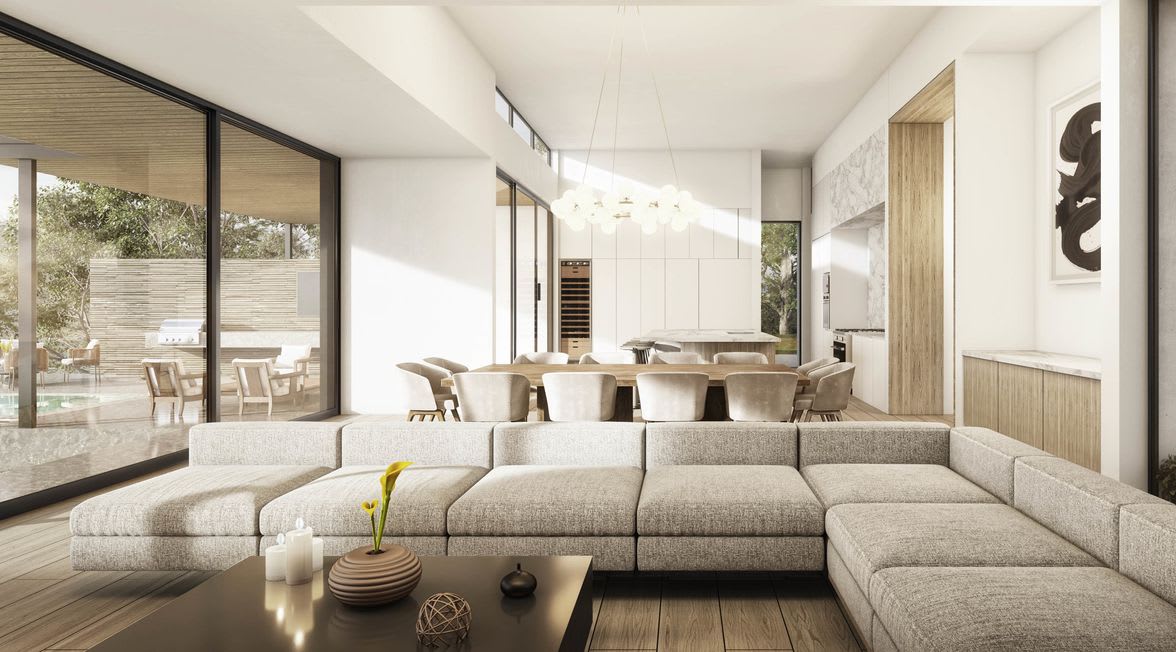 In Zilker, home-builder Jared Gossett listed a to-be-built five-bedroom for $7.95 million. Celeste Aguirre/Studio Celeste (RENDERING)
Amy Deane of Moreland Properties said the stakes are even higher for more expensive lots. She cited a property that a local builder bought last year for several million dollars; the builder is now marketing the land — with renderings for a five-bedroom home — for $23 million. Ms. Deane said a year ago, there were plenty of buyers willing to pay that amount. But today few will pay a premium for a property before the house is complete.
Wary of keeping unsold homes on the books, some builders have started to discount properties. One of Ms. Deane's clients, a buyer from New York, recently bid $3 million on a new, 4,000-square-foot home asking $4.4 million. She said the home would have been in a bidding war last year. This year, the builder responded to the low bid by dropping the price by $750,000. The parties are still negotiating, she said.
In September, Mr. Wilson's Greater Austin Builders slashed prices on two homes it recently completed. One is a four-bedroom property, asking $3.295 million, down from $3.85 million when it was listed in September. "You could basically zip line from the Google building," Mr. Wilson said, a reference to the tech workers he once expected to buy the house.
Mr. Bullard of Urban ATX said some buyers have backed out of deals in recent months. In mid-August, he said the buyers of a nearly $5 million, custom home in South Austin walked away from their $400,000 deposit, after the husband lost his job in the tech sector. Mr. Bullard is now completing the house on spec.
Crystal Olenbush of AustinRealEstate.com is marketing another one of Urban ATX's properties under construction in Barton Hills. The five-bedroom house, about a month away from completion, is currently listed on the private market for $5.28 million. Ms. Olenbush said when it is move-in ready, she'll list it publicly for less to try to move it quickly.
Mr. Bullard said he's reluctant to cut prices more than 10% on a $5 million house, and Urban ATX is building up its cash reserves to be able to hold on to properties for longer. "We at least need to break even, right?" he said. "Otherwise, we're paying to sell houses. That's not worthwhile. I would rent something out and wait for the market to return rather than sell it at a loss."